Mortgage Minute: Your Questions Answered
Date Posted: August 18, 2021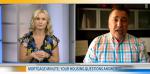 Q: I have always been a big saver and debt averse and use my debit card to pay for everything. Though, I have been told that this will not help me build my credit. What should I do if I am thinking of buying a home next year?
A: In order to buy a home, you must have a credit score. My recommendation is to have one credit card with a decent limit, something higher than 500$. Use this card once a month, whether you put gas on it or to pay for your gym membership then pay it in full after the statement comes in. Be sure that you are getting a credit card that is free with no annual fee. You need to have some kind of credit in order to purchase a home.
Q: I have been approached by my landlord to buy the property that I am renting. I feel like I am not ready yet as I still have some student debt and have not saved much for a down payment. They advised me that I could enter into a rent to own agreement with them for the next three years which has me interested. Are there any risks to entering such an agreement?
A: The risk is that if you are not ready for years from now, what happens? I would strongly encourage you to meet with a lawyer and make sure that the agreement has outs for you. Generally, the way a rent to own works is if your normal rent is $2000, you would pay a couple hundred above that monthly instead. That extra money paid, goes towards your down payment. Make sure that it is very clear in your contract that that is was you are doing.
For more information, reach out to a Mortgage Broker today!
To watch the full CTV Morning Live segment with Frank Napolitano; click here.